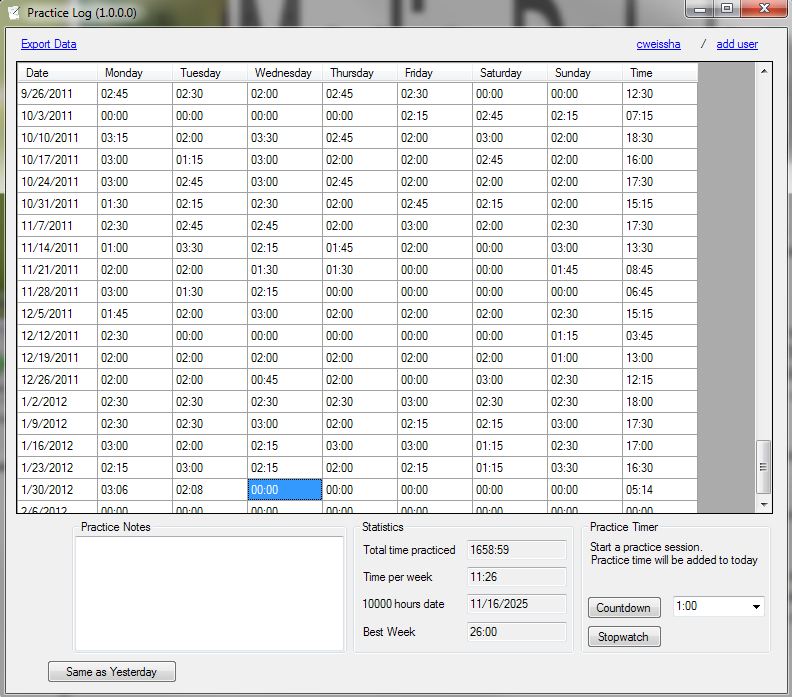 The Practice Log is a program for tracking the time that you spend doing an activity. This could be anything that you want a log of; like practicing a musical instrument, studying, exercising, working or sleeping.
The program was created with tracking practice time in mind. There is a Windows application and a free android app. The program is intended to be used in online mode where your practice time and notes are stored in the cloud. This allows you to use the android app or the windows application to view and edit your log. If you prefer, the windows application can be used in offline mode as well.
Capabilities
Record the amount of time you spend each day. The app will keep a weekly and running total and provide you with some summary statistics.
You can also keep notes relating to your practice, goals or accomplishments.
Both the android and windows version have a timer capability so that you can time your practice sessions.
The windows program allows for multiple users while the android app is best with a single user.
Requirements
Windows XP or later with .Net version 4 (standard in windows 7) and a free download for earlier versions. If you want to use cloud storage, you will need to have an internet connection.
Privacy
In offline mode, your data is only stored on your computer and the application never communicates with the internet. In online mode, your practice data is stored on weissoft.com and is only accessible with your password. Your password is stored encrypted and cannot be recovered if you forget it. The application provides an export capability so that you can make a backup of your online data.